Small Cents
Nickels
Dimes
Quarter Dollars
Half Dollars
Silver Dollars
Clad Dollars
Sets
Special Issues
Other
U.S. Coins
United States Modern Commemoratives
All modern commemoratives are sold in the original boxes issued by the U.S. Mint.
Please note that this list does not necessarily mean that we have all coins available at any given time. Early dates and higher grades are becoming increasingly difficult to locate. You are more than welcome to list alternate choices when ordering. (This can easily be done during the check out process under our "Special Instructions" section.)
Looking for coins not listed? If you are looking for particular coins or grades not listed, we may in fact have them in stock! We acquire coins on a daily basis, which we are constantly adding to our inventory. If we don't have the coins you want in stock, we'll make every effort to locate them.
American Buffalo Commemorative Coins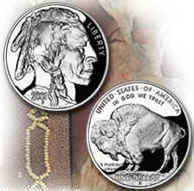 Signed by the President William Jefferson Clinton on October, 27, 2000, Public Law 106-375 authorizes the United States Mint to produce coins in commemoration of the opening of the Smithsonian National Museum of the American Indian (NMAI).
The American Buffalo Commemorative Coin Program consists of a silver dollar, and is offered in both proof and uncirculated conditions. The mintage for the silver dollar is limited to 500,000 for all options.
The American Buffalo Silver Dollar design is based on the original 5-cent Buffalo nickel, as designed by James Earle Fraser and minted from 1913 through 1938. Mr. Fraser (1876-1953), one of America's most renowned sculptors and medallic artists, was a student of another famous American sculptor-Augustus Saint-Gaudens. The silver dollar portrays a profile representation of a Native American on the obverse side and a representation of an American buffalo on the reverse side. This is a distinctive and appropriate coin to commemorate the National Museum of the American Indian.
Last Revised: August 26, 2012