Small Cents
Nickels
Dimes
Quarter Dollars
Half Dollars
Silver Dollars
Clad Dollars
Sets
Special Issues
Other
U.S. Coins
Jefferson Nickels


Jefferson Nickels (1938 - Current)
Please note that this list does not necessarily mean that we have all coins available at any given time. You are more than welcome to list alternate choices when ordering. (This can easily be done during the check out process under our "Special Instructions" section.)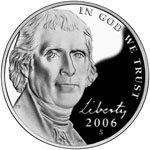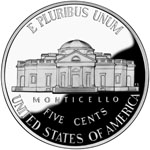 In 2006 the obverse features the "Jefferson, portrait completed during 1800" image and the reverse features "Return to Monticello".
We do not guarantee U.S. Mint wrapped rolls.
War Time Nickel Collection 1942 - 1945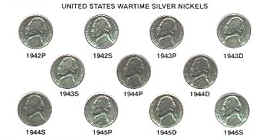 On October 8, 1942, the wartime five-cent piece composed of copper (56%), silver (35%) and manganese (9%) was introduced to eliminate nickel, a critical war material. A larger mint mark was placed above the dome (reverse). The letter P (Philadelphia) was used for the first time on a U.S. coin, indicating the change of alloy. These silver nickels were issued until 1946 when the prewar composition and mint mark style were resumed. Enclosed in holder.
America's Wartime Coinage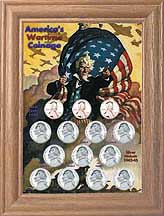 *In 1965, 1966 and 1967 the Mint issued Special Mint Sets (SMS) as a substitute for proof sets. The coins in these sets are of a higher quality than regular mint sets and are proof-like in appearance.
Last Revised: April 12, 2013