Small Cents
Nickels
Dimes
Quarter Dollars
Half Dollars
Silver Dollars
Clad Dollars
Sets
Special Issues
Other
U.S. Coins
Susan B. Anthony Dollars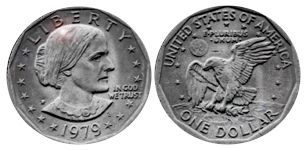 Susan B. Anthony Dollars (1979 - 1981, 1999)
Please note that this list does not necessarily mean that we have all coins available at any given time. You are more than welcome to list alternate choices when ordering. (This can easily be done during the check out process under our "Special Instructions" section.)
Complete Set
Complete brilliant uncirculated Susan B. Anthony dollar set including Proof issues housed in a Deluxe Dansco Bookshelf Album #8180. The 1979 wide rim dollar is NOT included with either set below.
1999 Susan B. Anthony Uncirculated Coin Set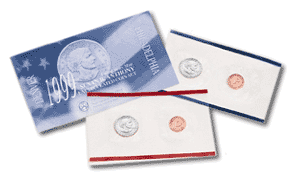 The Susan B. Anthony (SBA) Dollar Coins were introduced as an alternative to the dollar note in 1979 and represented the first time that a woman had been portrayed (other than symbolically) on a circulating U.S. coin. The 1999 SBA Dollar Uncirculated Coin Set is a limited-edition product - estimated production is 1.2 million sets. Set includes two SBA Dollars and mint mark pieces (P & D mints).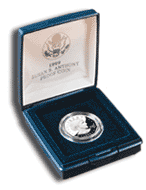 1999 Proof Susan B. Anthony Dollar
The Susan B. Anthony dollar was produced from 1979 to 1981 and then discontinued since many consumers and cashiers confused the coin with a quarter. In 1999, additional pieces were minted to meet the demand of vending machines at post offices and as subway tokens. That same year, a very small number were minted as PROOF issues specifically for collectors. In fact, 1999 was the last year of issue for the SBA dollar and the lowest mintage of the entire series. Available in very limited quantities.
Last Revised: July 19, 2013