Coin Bezels
Available on our New Website:
Coin Pendant Frames by Type:
Available for Special Order by Phone Only:
Please call us for availablity and pricing toll free at 1-877-571-4400.
Coin Wrist Watches
Coin Pocket Watches
Two Tone Coin Jewelry
Sacagawea Coin Jewelry
Coin Bolo Ties
Two Tone Money Clips
Coin Jewelry Bezels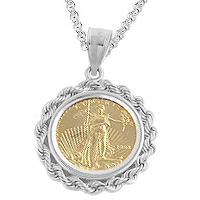 The exquisite gold, silver and platinum jewelry featured on our site would have been treasured by the people of the Roman Empire, for they are believed to have popularized the custom of using coins in jewelry. Simple pendants were the most popular choice for both men and women, with the coins mounted for easy removal.
Coin jewelry was also used to decorate distinguished soldiers in ancient Egypt. These decorative disks were imprinted with imperial portraits, much like the U.S. Mint circulating coinage and commemorative coins which frequently depict United States Presidents and other great Americans.
Through the ages, coin jewelry has continued to be highly prized in all corners of the world. Indeed, it's as stylish to collect and wear today as it was 2,000 years ago.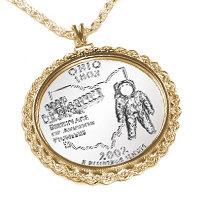 We carry only the finest 14K gold & Sterling Silver bezels, rings and bracelet mountings for gold, silver and platinum coinage. All bezels are hand selected by our jewelry staff. Choose from U.S. Eagles, Chinese Pandas, Australian Kangaroos, Angels or Cats and more.
The Finest Coin Jewelry...
In Ohio!
Sterling Silver U.S. Coin Bezel Pendants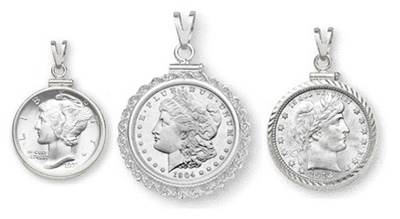 Sterling silver .925 coin pendant frames turn any coin into jewelry! These bezel frames are designed to fit U.S. coins perfectly.
Spring Back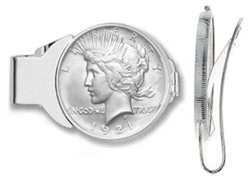 Just slide in and out your bills with ease! A curved metal piece presses against the bills to hold them safely.
Hinged Back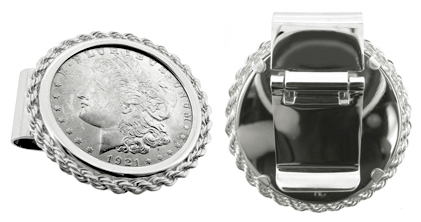 Clip is hinged to hold your bills securely, then open with the flip of a finger for easy access to your cash.
Sterling Silver Euro Bezel Pendants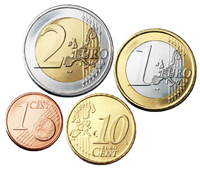 Sterling silver .925 coin pendant frames designed to fit Euro coins perfectly. Pick from plain polished, diamond cut, and rope bezel styles.
Available On Our New Website
14K Gold Bezel Pendants

Solid 14K Gold bezel frames let you turn any special coin into fine jewelry! Each bezel frame comes with a split top bail suitable for hanging from your chain. Pick from screwtop or prong bezels below. Or shop them all!
14K Gold Screwtop Bezels

Screwtop bezels have a small screw at the top of the bezel to mount or remove coin.
14K Gold Prong Bezels

Four prong bezels are similar to a diamond or precious stone setting. The prongs on the back fold over to secure the coin.
14K White Gold Bezels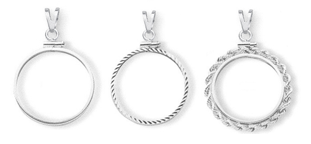 Solid 14K White gold bezels. Pick from plain polished, diamond cut, or rope style.
Cuff Links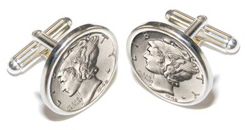 Turn coins into cuff links! Pick special dated coins to add sentimental value.
Key Chains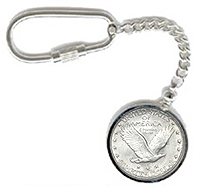 Turn his favorite coin into a key chain! A great guy gift.