Small Cents
Nickels
Dimes
Quarter Dollars
Half Dollars
Silver Dollars
Clad Dollars
Sets
Special Issues
Other
U.S. Coins
Silver American Eagles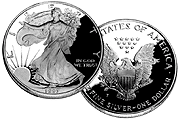 This popular favorite of CCJC's customers showcases the artistry of Augustus Saint-Gaudens' protégé, Adolph A. Weinman. His beloved classic, Walking Liberty, was originally designed for the 1916 half-dollar and now graces the obverse of the American Eagle Silver coin.
The Silver Eagle coins have a face value of one dollar and are one-ounce of .999 fine silver.
Uncirculated specimens do not include gift box. Please order additional gift boxes below.

Click Here for Silver American Eagle Display Boxes
We also carry:
Proof Silver American Eagles
Proof Silver American Eagles include gift box (U.S. Mint packaging).
Last Revised: May 20, 2013