Small Cents
Nickels
Dimes
Quarter Dollars
Half Dollars
Silver Dollars
Clad Dollars
Sets
Special Issues
Other
U.S. Coins
United States Mint
Proof Coin Sets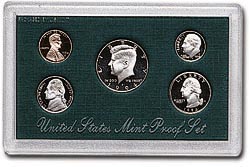 All Proof sets issued from 1936 to 1972 include the cent, nickel, dime, quarter and half dollar; from 1973 until 1981 the dollar was added and then removed from the sets in 1982. The Sacagawea Golden Dollar is included in 2000 thru 2003 (10-coin) Proof sets. In 2004 and 2005 the Mint has also added two commemorative nickels. The 2007 set includes 14 coins, in addition to the four new Presidential $1 coins, it also contains all five quarters, as well as the Lincoln cent, the Jefferson nickel, the Roosevelt dime, the Kennedy half-dollar, and the Golden Dollar featuring Sacagawea.
Proof sets dated 1955 and up will be shipped in mint issue packaging.
Silver Proof Coin Sets

The United States government also produced Silver Proof sets starting in 1992. The Roosevelt dime, Kennedy half-dollar and the Washington quarters are struck in 90% silver, generally referred to as "coin silver." These coins are packaged in presentation cases to preserve their exceptional finish.
These silver Proof sets includes all five new quarters issued for their respective year. The Roosevelt dime, the Kennedy half-dollar and the five new quarters are minted in 90% silver. The set also includes proof versions of the Lincoln cent, the Jefferson nickel, and the Sacagawea Golden Dollar for the 2000, 2001, 2002 and 2003 set.
In 1999, the United State Mint issued a Proof Susan B. Anthony Dollar, however, it was sold separately from the Proof Set.
Presidential, 50 State, and National Park Proof Sets by Type
Presidential Dollar Proof Sets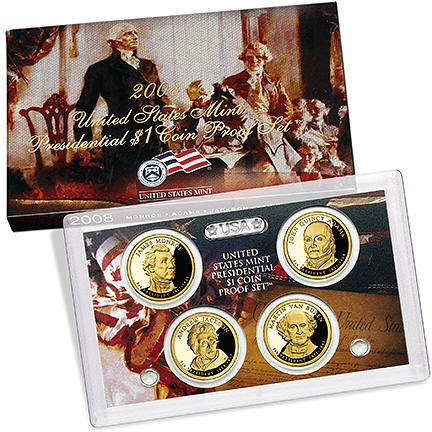 A new series of $1 coins honoring the Presidents of the United States in the order that they served began in February 2007. To commemorate these historic coins, the United States Mint is striking and issuing a set of four Presidential $1 Coins per year in proof condition. Each coin has a reverse design featuring a striking rendition of the Statue of Liberty. These coins also feature edge-incused inscriptions of the year, "E Pluribus Unum," "In God We Trust" and the mint mark. The size, weight and metal composition of the new Presidential $1 Coins are identical to that of the Sacagawea Golden Dollar.
This set not only makes a great gift but is also an enduring reminder of our Nation's history.
50 State Quarters Proof Sets
U.S. Territories Quarters Proof Sets
National Park "America the Beautiful" Quarter Proof Sets
*In 1965, 1966 and 1967 the Mint issued Special Mint Sets (SMS) as a substitute for proof sets. The coins in these sets are of a higher quality than regular mint sets and are proof-like in appearance.
Last Revised: Sept 11, 2013