Inspirational
Commemorative Year
Personalized
Christmas
Other
See our COMPLETE selection of gift items at our New Website!
Here are some of the items that have moved to our new site:
Gifts
United States Year Coin Sets

These sets are a great gift idea for Birthdays, Weddings and Anniversaries. Every set include a one cent piece, a nickel, a dime, a quarter and a half-dollar. All coins dated from 1940 - 1964 will be the highest quality circulating coins at an affordable price. Coins dated 1965 and later are uncirculated. For an earlier date please contact us at 1-937-436-3003. Each set is encased in a hard plastic holder and enclosed in a presentation box.
Special Occasion Gift Frames
Add a Birth Year Greeting Card
or a Birth Year DVD & Card
or a Birth Year Trivia Playing Card Deck
. . . a Great Compliment to our Year Sets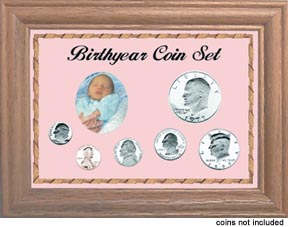 The (Birth Year) economy frame will hold a wallet-size picture and your choice of coins, half dollar through cent (5 hole), or dollar through cent. Colors: Pink, Blue, and White. $15.00 Each. Frame size is 5 x 7. Coins not included.
What exactly is the difference between a Year Coin Set and a Proof Set?
A "proof" coin is a specimen striking for presentation, souvenir, exhibition, or numismatic purposes, but not intended for general circulation. Proof coins prior to 1968 were struck only at the Philadelphia mint except in a few rare instances in which presentation pieces were made at branch mints. Current proof sets are made at San Francisco and West Point. Proof sets prior to 1956 demand a high collector price so our coin staff custom makes "Year Coin Sets".
Last Revised: July 18, 2013