Small Cents
Nickels
Dimes
Quarter Dollars
Half Dollars
Silver Dollars
Clad Dollars
Sets
Special Issues
Other
U.S. Coins
Liberty Head ("V") Nickels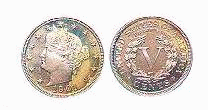 Get you children and grandchildren started in the fun of collecting coins! Coins are graded Good to Fine. We make every attempt to give you mixed dates and mint marks. Mixed lots are not returnable.
Liberty Head ("V") Nickels (1883 - 1912)
Please note that this list does not necessarily mean that we have all coins available at any given time. You are more than welcome to list alternate choices when ordering. (This can easily be done during the check out process under our "Special Instructions" section.)
Looking for coins not listed? If you are looking for particular coins or grades not listed, we may in fact have them in stock! We acquire coins on a daily basis, which we are constantly adding to our inventory. If we don't have the coins you want in stock, we'll make every effort to locate them.
Average Circulated Liberty Nickels
Random mix. Mixed lots are not returnable.
Last Revised: August 26, 2012