U.S. 50 State Commemorative Quarter Frame
Statehood Quarter Collection - Oak Frame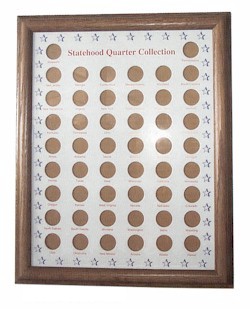 This beautiful oak frame measures 15 3/4" high and 12 3/4" wide. Cardboard insert measures 11" wide x 14" high. Coins not included!
Statehood Quarter Oak Frame holds one quarter for each of the 50 states.
Statehood Quarter Collection - Oak Frame - $24.95 Each
Edgar Marcus & Co. Solid Oak Frames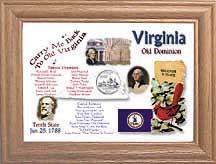 CLOSEOUT
These attractive solid oak frames are perfect for home, office, gifts or rewards! Beautiful full color art work; frames measure 6 3/8" x 8 3/8" with an easel back.
Delaware Statehood Quarter Oak Frame - $9.95 Each - (#FR-DE)
Massachusetts Statehood Quarter Oak Frame - $9.95 Each - (#FR-MA)
Maryland Statehood Quarter Oak Frame - $9.95 Each - (#FR-MD)
New Hampshire Statehood Quarter Oak Frame - $9.95 Each - (#FR-NH)
Virginia Statehood Quarter Oak Frame - $9.95 Each - (#FR-VA)
Tennessee Statehood Quarter Oak Frame - $9.95 Each - (#FR-TN)
Ohio Statehood Quarter Oak Frame - $9.95 Each - (#FR-OH)
Indiana Statehood Quarter Oak Frame - $9.95 Each - (#FR-IN)