Inspirational
Commemorative Year
Personalized
Christmas
Other
See our COMPLETE selection of gift items at our New Website!
Here are some of the items that have moved to our new site:
Gifts
The Time Of Your Life DVD Gift Cards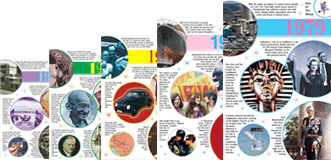 It's a card... it's a DVD... It's a DVD Gift Card. Three stunning ranges of fabulous greetings cards complete with full length DVDs. Truly a unique card and gift in one and something to suit everyone.
Fabulous greeting cards featuring news stories and archive footage from 1930 to 1989.
Last Revised: January 24, 2013